Friday, 29 October 2010
The final version of
QUOD INIT EXIT
, a funny, colorful C64 game is available now - get it from
CSDb
.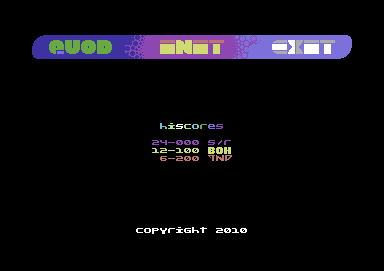 Posted by

saimo
at 03:45
2 comments:


Saturday, 23 October 2010
Now here's an interesting idea - a remake of
The Curse of Monkey Island
redone with MI1 / 2 graphics and interface. I saw this a while ago and they've got to Beta stage without a C&D notice from LucasArts, so who knows...
Personally
Curse of Monkey Island
was actually my favourite game in the series, but I can see why this remake would appeal to some. (I admit the verb coin is not my favourite adventure game interface, but I liked CoMI enough to overcome that objection.)
Check out the
Development Thread
for more details.
It's not a remake, and it's for modern PCs, but new freeware game Super Crate Box has a lovely retro feel and has been described by myself as a cross between Llammatron and Bombjack (though I think I really meant Robotron... but hey, what's the difference really?!?!), and someone else on their Twitter page as a cross between Mario Bros and Centipede.
See
my review
first, then visit the
official website
to download the game.
Or possibly the other way round.
Super Crate Box
from
Vlambeer
on
Vimeo
.
Tuesday, 5 October 2010
The 3rd preview of this funny, colorful C64 game is available now - get it from
CSDb
.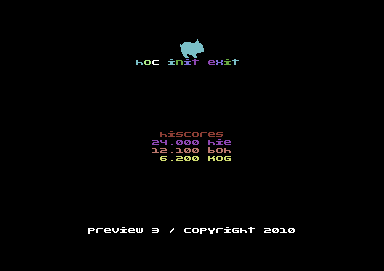 List of changes since version 2c:
* added end-of-level special phase (including new graphics and music);
* improved graphics;
* added catches notification;
* added music fadeout;
* improved platforms variety;
* fixed a bug in the chart saving routine (only the first save would work);
* made many speed and memory optimizations;
* made lots of other changes (mostly internal, for future development).
Posted by

saimo
at 02:11
No comments: